Alarming Run Game Stats
July 18th, 2023
Well, it can only get better from here, Joe guesses.
Joe has been harsh on the Bucs' run game from last year, and when assessing running back Rachaad White as a runner (White had solid receiving numbers).
Joe loved, absolutely loved White's game against the Seahawks when he looked every bit the player that the Bucs have put so much faith in.
Sadly, that was one game out of 17.
As Joe has stated several times, White's advanced stats running the ball were downright gruesome. This concerned Joe because if there is one offensive position on an NFL team that historically has the smoothest transition for a rookie, it's running back.
In his deep dive on all things NFL, Warren Sharp documented White's struggles as well as the Bucs' poor running game as a whole in Warren Sharp's 2023 Football Preview.
"Struggling" is too kind.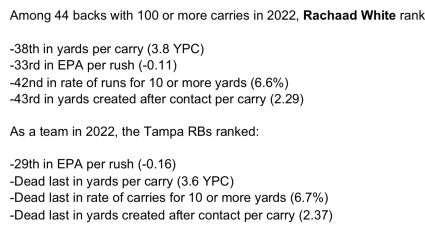 Gruesome numbers.
Joe thinks those in NFL front offices and coaching conference rooms would see these figures and immediately begin upgrading the personnel. Instead, the Bucs stood pat.
Cynics might suggest this is evidence the Bucs are secretly tanking for Caleb Williams (#CollapseForCaleb).
 But Joe has a hunch Bucs AC/DC-loving general manager Jason Licht and coach Todd Bowles know that former offensive coordinator SpongeBob Leftwich simply had no clue how to develop and scheme a running attack. Bring in a replacment from a team that always ran the ball well and watch what happens. Hopefully.
The Bucs run game can only go up.