"You're Going To See Guys Going After That Ball A Lot More"
June 19th, 2023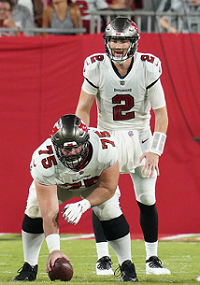 Did the Buccaneers' veteran secondary do Bucs quarterbacks a disservice this spring?
Competing Kyle Trask and Baker Mayfield are hunting the same job and were eager to showcase their abilities throughout spring practices, where pads and hitting are forbidden. However, a defensive back breaking hard on a football is allowed and guys are free to jump routes and dive to break up passes.
That wasn't really happening the way it will in August, per new Bucs safety Ryan Neal.
"Right now we gotta kind of take it easy because it's not that point in the season yet, so guys are kind of hesitant with taking that shot," Neal said Wednesday. "But, you know, when we get to training camp, it's going to be a totally different story."
Joe thinks the approach Neal shared is magnified because the Bucs have such a veteran defensive backfield — one well versed in flipping a switch come training camp while rookies often run hot in the spring.
That reality is another X-factor in the Trask-Mayfield competition. Perhaps Mayfield's turnover woes will come back when the defense is more real? And/or maybe Trask will look overwhelmed when pushed to the No. 1 QB?
Joe sure hopes they both look fantastic.