Biggest Snub Honor To Mike Evans
June 19th, 2023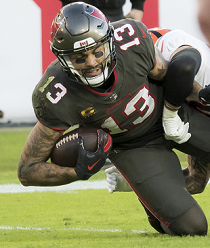 It's not just Joe who was horrified by the annual top-100 players list produced by elder statesman NFL insider for CBS Sports, prickly Pete Prisco.
Prisco puts a ton of work into his list, and he explained on CBS Sports HQ that it's a cross between what a player did last season and what he's projected to do this coming season. Film study is a big component, Prisco said, and then there's more honing and film work after Prisco runs picks past heavy hitters around the National Football League.
Retired defensive end Leger Douzable, who played for Todd Bowles with the Jets, is Prisco's colleague at CBS and he wagged a finger at the top-100 list.
Arguably the biggest snub went to Mike Evans, per Douzable. Evans didn't make the cut.
Douzable rhetorically asked Prisco, "How many 1,000-yard receiving seasons does [Evans] need?" to be considered a top-100 player.
The first appearance of a Tampa Bay player was right/left tackle Tristan Wirfs, who ranked No. 46, after fellow offensive linemen Trent Williams, Lane Johnson and Andrew Thomas.
Prisco inserted Lavonte David at No. 71 overall and Chris Godwin at No. 90. They are the only three Bucs in the top-100 while Evans and Antoine Winfield, Jr. got honorable mentions.
Joe wonders what Devin White has to say about this list?