Bigger Load, Bigger Impact
June 19th, 2023
BY IRA KAUFMAN
At 6-foot-4 and pushing 350 pounds, Vita Vea isn't easy to overlook.
But it happens.
Tampa Bay's massive nose tackle remains a force of nature, yet there's room for growth. Coming off a lucrative 4-year contract extension, Vea posted a career-high and team-leading 6 1/2 sacks last year while missing three games with a calf injury.
Despite the production, Vea failed to receive a single All-Pro vote from the Associated Press 50-member panel. He was also shut out from the Pro Bowl team after making it the year before.
While Buc coaches appreciate Vea's impact, they're looking for more — starting with durability.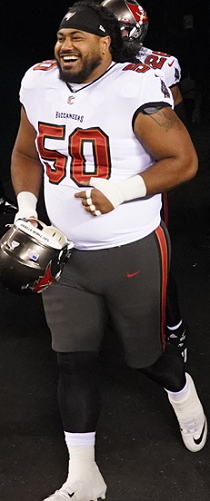 The 12th overall pick in the 2018 draft, Vea has missed 18 games in five seasons. A fractured ankle limited him to only five regular-season games in 2020, but he returned to play two postseason matchups during the championship run.
"Vita has emerged as one of our league's most disruptive interior defensive linemen due to a unique skill set that combines strength and superior athleticism," says Jason Licht. "Vita's abilities as both a premier run stuffer and pass rusher are rare and his presence on the defensive front has played a major role in our ability to consistently rank among the league leaders in rush defense since his arrival."
But Todd Bowles expects better from a run defense that allowed an average of 4.5 yards per carry in 2022, well off the 3.6 standard set only two years earlier during the championship season. The departure of Ndamukong Suh was a factor in the dropoff and now Vea is busy serving as a mentor for top draft choice Calijah Kancey.
"Vita's doing a great job of teaching me the game," Kancey says. "He's going to draw a lot of attention, which will help me out."
Kancey could also help Vea out with a quick first step off the ball that may prompt offensive coordinators around the league to adjust their blocking patterns against Vea. If Kancey can regularly disrupt plays in the backfield, Vea may not have to face double teams on every snap.
Speaking of snaps, Vea was on the field for only 59 percent of Tampa Bay's defensive snaps last season. While they are careful to monitor Vea's workload, Buc coaches realize the benefit of having him on the field.
Opposing coaches have noticed, too.
"He's one of the best players in this league," says Sean McVay, who coaches Aaron Donald in Los Angeles. "He's such a large individual that has such good ability, such good movement. He's a real problem."
Tampa Bay's defense was stout for much of last season, but a plodding attack was too much to overcome. Buc defenders found themselves worn down physically and mentally by the grind of holding up the entire team.
The playoff game against Dallas was humiliating — on both sides of the ball.
Bowles is counting on a healthy Vea to lead the way up front. He's the veteran presence now, following the departures of Will Gholston and Akiem Hicks. Bowles craves more takeaways and Vea, who has forced only one fumble in 64 games, can do more in that regard.
"Vita plays a very pivotal role in our defense," Licht says. "When he's in there, a lot of things happen for not just him but everybody else around him."