Todd Bowles Gives Mike Evans Ultimate Compliment
June 14th, 2023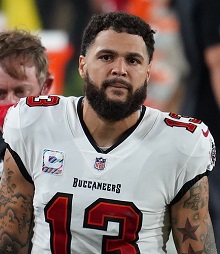 There are few unused superlatives when it comes to the greatest receiver in Buccaneers history.
Of course, Joe is referring to Mike Evans, who was being lauded today by Todd Bowles following Day 2 of mandatory minicamp.
Bowles dropped a new and very-Bowles-like take on Evans that is the ultimate compliment from a guy who has made his career on being a defensive guru and NFL defensive back.
"He competes like a defensive player," Bowles said of Evans. "He's an offensive defensive player. So I think that helps with his mentality."
Joe thinks that's a great way to look at Evans. He has that linebacker, attack-dog mentality in a receiver, and an eagerness to perform every nuance of the game.
Former Bucs head coach Dirk Koetter used to say that one thing the Bucs did very well is force the ball to Mike Evans. Hey, it was a solid strategy seven years ago, and Joe thinks it could be that again in 2023.