Leonard Fournette: Devin White Will Get Paid
June 14th, 2023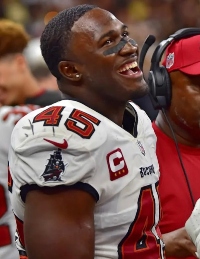 It's no secret that Buccaneers savior linebacker Devin White wants the $20 million per year being hauled in by the top players in the game at his position.
It's why White asked for a trade earlier this year. White wants a new deal, a biggest-money offer.
Leonard "Playoff Lenny" Fournette knows all about it, so he told The Rich Eisen Show yesterday. Fournette was in a discussion about how teams don't want to pay veteran running backs but linebackers are cashing in and he's applauding those getting paid.
"I'm happy for them, man. That's what it's supposed to be like. I'm happy. I'm proud of them. And I'm quite sure my guy, my best friend Devin White's up next to get that big contract," Fournette said.
Joe thinks it's safe to say White has plenty to prove this season as he is forced to accept $11 million plus for the 2022 campaign. If White didn't have much to prove, the Bucs would have extended his contract already.
As for Fournette, he said he's hungry for a team and that's why he's training like he's playing, awake at 5 a.m. to train and grind.
Joe is sure Fournette will find a job. No running back is unemployed after racking up nearly 1,200 yards from scrimmage in the previous season like Fournette had in Tampa last year.