"Emotions Got The Best Of Him"
June 14th, 2023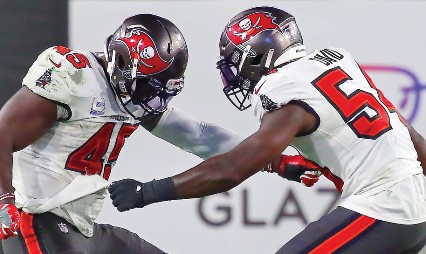 The Buccaneers' elder statesman played the role of Sage after minicamp practice today.
Iconic linebacker Lavonte David, 33, was asked what teammate Devin White was thinking when he requested a trade earlier this year because he was unhappy with his contract.
David didn't hesitate, and he didn't tell anyone to ask White.
"Emotions got the best of him," David said of White. "You know, I know Devin wants to be here. He wants to play here. So his emotions got the best of him. He's here. You know he's here ready to work. He's not ready to go right now but he'll getting [ready] for training camp."
David added that he knows the type of person White is and that White isn't the type of guy to get emotional and ask for a trade. He said he advised White to show his passion and how much he loves the game, his teammates, and playing for the city of Tampa.
Great advice from David, who went out of his way to say there's a difference between being emotional and passionate. He wants White to stay focused on his passion and not get upset by the business side of the game.