Antonio Brown Says Bucs Weren't Grateful To Have Him
June 25th, 2023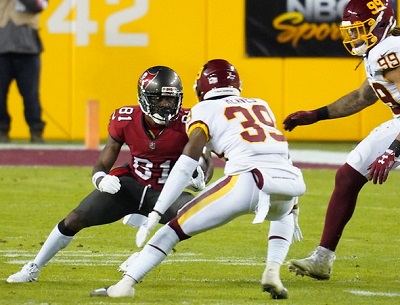 Antonio Brown did a wild and confusing job explaning why he simultaneously was a me-first guy but still a team player during the Buccaneers' 2021 season — the one in which he famously quit during the Week 17 Bucs-Jets game.
Brown sat down for an hour or so Tyreek Hill's It Needed To Be Said podcast published yesterday.
He had a lot to say.
As usual, Brown was all over the place, but a common theme was that the Bucs didn't respect him, appreciate him or care about him. And they didn't pay him enough for the 2021 season in which he earned about $3 million, minus the roughly $750,000 he lost because the NFL suspended him for providing a phone COVID vaccine card.
"They like minimizing my role off the bat like, 'Yo, he's here. He's staying with Tom.' It was like I'm just this crazy guy that just came. Only way I'm here [is] to help for the Super Bowl, let's get it clear," Brown said of the Bucs.

"You know what I'm saying? So they went to like still making like I was some kind of issue. Then they win, and do everything that we're supposed to do, we do. And then I'm here the last one getting signed [in 2021] for like a low deal. [After] I already had played eight games [in 2020] for like a million dollars and it was like a bonus for [catches and winning the Super Bowl]. … That's like some hocus pocus, like if this just happened.

"So it was like I was grateful. But I don't they was really grateful for me. … "The next year I was like, 'Damn, I see the real value of what they think of me.'"
Of course, Brown seemed oblivious to the fact he signed the 2021 free agent contract of his own free will. He could have played for another team.
Joe thought it was interesting that Brown seemed in denial about the fraudulent vaccine card and sounded like he expected the Bucs to defend him on that charge leveled against him by the NFL. Former Bucs safety Mike Edwards also was suspended.
Brown had plenty more to say, but Joe's head is sore from listening. Brown sort of contradicted himself and didn't take responsiblity for his decisions as they related to his health.