"Our Main Focus Would Be What Can We Do"
June 25th, 2023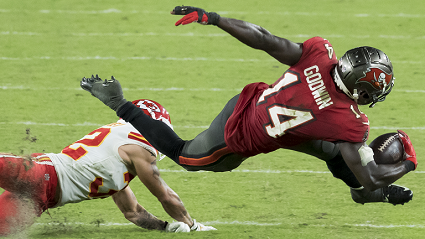 Stop trying to pigeonhole the Buccaneers offense.
Though he never would say it that way, that was sort of the message from new Buccaneers offensive coordinator David Canales last week.
He's said that previously, but he went there a little differently this time during a Buccaneers.com sitdown called Slice.
Canales was asked how to describe the Bucs offense to fans.
"Our main focus would be what we can do," Canales said. "So I'm more interested in finding out what are our best runs, what are our best passes. So that over time, at the end of a season, and in critical situations, the words that come out of my mouth from the call sheet are things make these guys get excited.

"From the minute I met with Coach Bowles, his philosophy for what this team would look like, it was like hearing what I've learned, what's kind of in my fabric, which is this team that plays aggressive, great defense, hair-on-fire special teams and then an offense that has an attitude by running the ball and by having efficient passes so that we can complete the ball, eliminate turnovers … just being able to play that football that's connected."
Joe had to chuckle when Canales mentioned the "hair-on-fire" special teams. That sure would be great to see, and perhaps the athletic rookie class can help make that happen.
Obviously, Canales wants balance. But Joe is comforted knowing Canales is wise enough to realize maximizing Chris Godwin, Mike Evans and Russell Gage, assuming they're all healthy, is probably the best way to make the Bucs offense dangerous again.