"Learn, Engage, Execute"
May 12th, 2023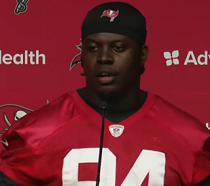 Buccaneers rookies are chatting with media following their morning walk-through and the clichés are flowing.
Everybody is happy to be here and ready to learn.
They want to compete in rookie minicamp and get acclimated to Tampa, teammates and coaches.
One guy that seems to have a firm plan is first-round pick defensive tackle Calijah Kancey. "Learn, engage, execute," he said.
Kancey said he is focused on learning every single player's name, his way around Tampa and the playbook.
One guy Kancey has met already is Vita Vea, he said. And, of course, Kancey remarked on the massive size of his new running mate on the Bucs' defensive line.