Kade Warner "Will Make A Name For Himself"
May 17th, 2023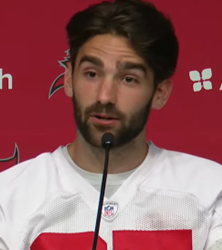 The Bucs are quite bullish on undrafted rookie free agent receiver Kade Warner, son of Hall of Fame quarterback Kurt Warner.
Head coach Todd Bowles weighed in for the first time on young Warner, during his visit to The Rich Eisen Show this week.
"I like Kade, and I know Kurt very well and I've talked to him," Bowles said. "Kade is going to make a name for himself. I think Kade is very tough; he's very polished. He's a coach's kid so he's going to be polished. … I like everything that Kade's done thus far. He's come in and put his head down and got to work. And as we get into pads and he gets to prove himself, I think he'll make a name for himself and doesn't want to be the sequel to his dad. I think he wants to start his own movie."
Bowles went on to explain that Kurt Warner would visit Arizona Cardinals headquarters "all the time" when Bowles was defensive coordinator under Bucco Bruce Arians. And that's where Bowles built a relationship with Warner that has continued through the years.
With the Bucs signing veteran David Moore this week, Kade Warner seems to have at least five receivers ahead of him on the depth chart, including rookie sixth-round pick Trey Palmer. So Warner's chances of making the 53-man roster are slim as of today.