Do Bucs Have 3 Of The Best 8 Players In The NFC South?
May 17th, 2023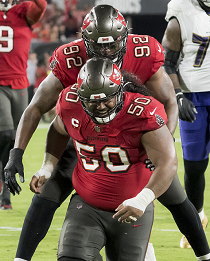 Joe is enjoying how rambling, uneducated types are convinced the Bucs will be back in the basement of the NFC South and challenge for next year's top pick in the draft.
It's so annoying it's almost amusing. And that's the sentiment through many corners of the nation, including a couple of angry bars in Largo and Bradenton.
Two thoughtful and intelligent NFL analysts, former Bucs QB Chris Simms and PFT Live co-host Mike Florida of ProFootballTalk.com, seem to think the Bucs have too much talent for that kind of chatter.
Simms and Florio engaged in an exercise to name the best non-quarterbacks in the NFC South.
Among their top-6 were Mike Evans and Tristan Wirfs, joined by edge rusher Brian Burns of the Panthers, beastly Falcons guard Christ Lindstrom and running backs Alvin Kamara and Bijan Robinson.
After saying they wouldn't name more than six, Falcons cornerback A.J. Terrell was the next guy mentioned followed by Vita Vea.
So that's three Bucs in the top-eight division players — yet so many folks somehow think the Bucs' quarterback situation is so ugly Tampa Bay can't compete with the likes of Falcons QB Desmond Ridder and rookie Panthers QB Bryce Young.
For the record, Joe would take Bucs safety Antoine Winfield, Jr. ahead of Terrell, who Joe doesn't think is better than his Bucs counterpart, Carlton Davis.
Simms and Florio seemed to have three more honorable mention NFC South players firmly on their lost of best non-quarterbacks, including Chris Godwin, Panthers defensive tackle Derrick Brown and Saints receiver Chris Olave.
Joe wonders what Devin White thinks of this list?