Fresh Insight On Calijah Kancey Having Zero Predraft "Top-30 Visits"
May 16th, 2023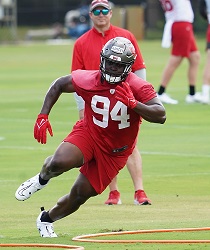 Cool nuggets inside the Buccaneers' new in-house video feature focused on the NFL Draft.
Tampa Bay first-round pick Calijah Kancey, the University of Pittsburgh defensive tackle, did not have one NFL team call him for a "Top-30" visit. For those unaware, teams can have 30 college prospects visit their team headquarters prior to the draft.
Lots of fans do jumping jacks and get all hot in the pants when they learn a prospect visited their NFL team.
"Top-30 visits are more or less people you want to get to know down the line," Todd Bowles said in the feature. "It's not necessarily the top picks because some of them you're not even going to be able to touch. It's not uncommon that they don't get visits."
Kancey said he wasn't sure whether no inivitations for a visit was a good or a bad thing. It seems he was getting mixed messages from those in his camp.
General manager Jason Licht said he wasn't surprised Kancey wasn't called in for a top-30 visit because he was very busy with about two-thirds on the league's teams at the NFL Scouting Combine.
Cool perspective there from a lot of angles. Of course, it's the NFL, so Joe isn't sure what to believe. But Joe is darn glad Kancey is wearing pewter and red.