Bucs Tickets On Secondary Market Are Really Cheap
May 17th, 2023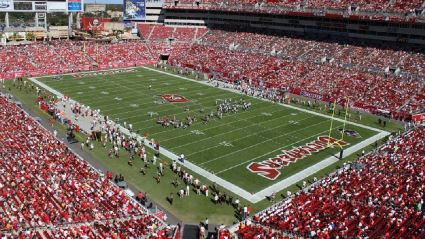 Earlier this week, Joe shared an excerpt of the popular NFL podcast "GM Shuffle," where co-host and VSiN personality Femi Abebefe was angry that Roger Goodell's outfit is forcing Abebefe to watch two Bucs primetime games this year.
"Who wants to watch this team?" Abebefe grumbled.
It seems Bucs fans aren't even all that motivated.
Darren Rovell of Action Network has researched tickets available on the secondary market and he found the market for Bucs tickets has absolutely cratered.
Last year, the Tampa Bay Buccaneers were the 5th most expensive ticket in the NFL (average: $359), per @tickpick.

This year, without Tom Brady?

$179 average. Third cheapest in NFL.

— Darren Rovell (@darrenrovell) May 15, 2023
No, Rovell did not list the two teams with cheaper average ticket prices than Tampa Bay.
Joe has mentioned a few times that there is no buzz about this team entering its first season in the post-Tom Brady era. Whatever method the Bucs are using to sell Kyler Traskfield to fans, both Bucs fans and NFL fans in general, well, the message and method are not resonating. At all.