Wing Man Yaya Diaby
April 28th, 2023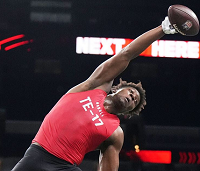 Buccaneers general manager Jason Licht was boasting about an 82-inch wingspan tonight.
It's not his, and certainly not Joe's. It belongs to third-round pick edge rusher YaYa Diaby out of Louisville.
Licht said multiple times how Diaby is an extraordinary athlete, a blend of speed and power, with a side of great effort. Licht used the "R" word — raw — but backed off that because he said it has a negative connotation.
That combination of speed and power is critical, Licht said, adding he's learned over the years that quickness without significant power at that position often fails.
So Diaby is a little raw with all the necessary tools. That's a great start. And it's great to have more competition for Joe Tryon-Shoyinka