Hunger Issues
April 23rd, 2023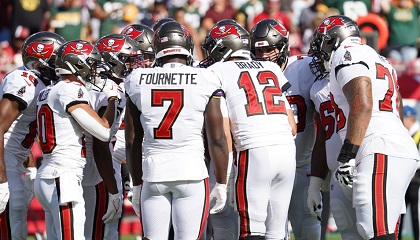 Defensive tackle William Gholston, still a free agent, was hit with a very interesting Tom Brady question during his visit with LaVar Arrington on FOX Sports Radio after this season.
After Gholston raved about Brady's Super Bowl pregame speech, Arrington asked Gholston to talk about the last Brady speech to the team and why the Bucs lost that game.
Gholston paused and didn't answer the Brady-related question.
Arrington suggested the Cowboys looked "ready for the game" against the Bucs in playoffs in January and the Bucs did not look as ready. He asked Gholston to explain what happened against Dallas and Gholston made a face that told the audience he wasn't going to be candid.
"To give you the most realistic and professional answer, that's what I have to, we didn't capitalize on our opportunities," Gholston said. "We had times to make a play; they made their plays. They did come out with some hunger, they did come out with some hunger, and they capitalized."
Joe was very intrigued by the whole exchange that strongly implied the Bucs, despite being led by Brady, had lost their fire — even in a home playoff game.
Just recently, head coach Todd Bowles told Rock Riley the newness and energy that new offensive coordinator Dave Canales is bringing to the team is a game-changer. "Hunger will drive us," Bowles said.
Also last month, Bowles praised new QB Baker Mayfield for his fire and for being "a natural born leader."
What a strange season it was, with the team seemingly losing its fire despite a new head coach, sky-high expectatins and everything on the line, and the greatest quarterback in history possibly playing his last game.
Joe doesn't think Gholston's response and the Bucs' offseason moves are unrelated.
Ira Talks Trading Down & Out Of Round 1, Drafting A Late-Round Quarterback, Management Mindset On Devin White, Tight End Priority & More