Historic Scapegoat Gerald McCoy
April 16th, 2023
BY IRA KAUFMAN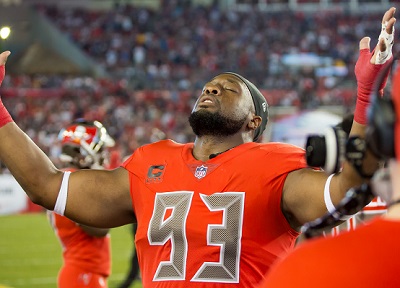 We'll never forget the red kimono.
As local media waited for players to arrive at One Buc Place on reporting day in 2017, here came Gerald McCoy, clad in sandals and a bright red robe embroidered with a dragon across the back.
McCoy smiled for the camera crews, a huge grin emanating from a guy who wears his emotions on the sleeve of his kimono. It wasn't the first time McCoy's outfit would cause a stir. In 2014, he arrived for training camp in a bathrobe and slippers.
He once boarded a team plane in a Santa suit. He was into fashion, he was into fun and yes, he was into football.
When McCoy announced his retirement this week, it marked a long, slow exit for a player known for his quick starts. After all, No. 93 played exactly one game in the past three seasons.
McCoy ruptured his quad during the first padded practice with Dallas in 2020. When he joined the Raiders the following season, Jon Gruden couldn't wait to plug him into the 3-technique spot.
"This guy took over the torch from Warren Sapp and it's a hard thing to do," Gruden said of McCoy's nine years as a Buccaneer. "This is one helluva player."
McCoy's string of health concerns followed him to Las Vegas as he suffered a season-ending knee injury in Week 1. While recuperating, he was slapped with a 6-week suspension without pay for violating the league's policy against performance-enhancing substances.
He never played another down.
Health was a concern from the start. Buc fans couldn't believe McCoy's bad luck when he suffered a torn left biceps as a rookie in 2010, then tore his right biceps the next season.
In between all the injuries, McCoy turned out to be well worth the No. 3 overall pick in the draft, chosen right behind Ndamukong Suh. Considering Mark Dominik's other first-round picks as Tampa Bay GM included luminaries like Mark Barron, Josh Freeman, Adrian Clayborn and Doug Martin, the selection of McCoy out of Oklahoma proved to be a righteous choice.
But as the years went on, McCoy loved the Buccaneers far more than Buc fans loved him.
It was quite a paradox: although he wasn't Sapp and he wasn't Suh, McCoy was named to six consecutive Pro Bowls.  Six times, his peers voted him one of the NFL's top 100 players … including two designations as a Top-30 player.
Buc fans looking for scapegoats on perenially lousy football teams tended to narrow their focus on McCoy, dinging him for helping opponents off the ground or ridiculing his man cave filled with comic books and a life-size Batman statue.
Through all the negativity, McCoy tried to stay positive.
"Don't listen to the naysayers and stay away from the dream killers, people who tell you that you can't do it," he said in a message to his detractors.
McCoy enjoyed a productive Buccaneer career before his release in 2019. He wasn't great, but he was very good. Still, Buc fans appear evenly divided whether McCoy's career merits consideration for the Ring of Honor.
Despite his critics, McCoy's warmth for the franchise never wavered. After he registered 2 1/2 sacks for Carolina against Jameis Winston in London during a 37-26 triumph in 2019, McCoy was asked about the revenge factor.
"I don't have anything bad to say about that organization," he said of the Bucs. "They changed my life."
McCoy was always proud to represent the Bucs, starting with that memorable bear hug he administered to Roger Goodell on the stage of the 2010 draft.
The odds are he'll never own a gold jacket to go along with that flaming red kimono, but that's all right with McCoy. He made his mark on this franchise and this community.
Just ask Dirk Koetter, who coached McCoy his final three seasons as a Buccaneer.
"Gerald was a heck of a player," Koetter told me after McCoy's retirement became official. "He was outgoing, giving and a good teammate. When you prepare to play any team in this league, you identify one or two game-wreckers. Trust me, when I was with Atlanta, we always viewed Gerald McCoy as a game-wrecker. He was very quick off the ball and very rarely would teams try to block him with just one guy. You had to know where he was at all times."
And what he was wearing.