Bucs Could Trade Up If…
April 16th, 2023
So what will the Bucs do when the draft kicks off a week from Thursday night?
Will they burn a draft pick to trade up? Will they package disgruntled linebacker Devin White (yes, Joe knows Bucs AC/DC-loving general manager Jason Licht stated he doesn't intend to)?
Will Licht wait for the draft to come to him?
Jenna Laine of ESPN correctly points out that Licht is not much of a trade-up kind of guy, at least in the first round. He did that once and hit the jackpot with Tristan Wirfs.
Licht has traded down in the first round. Laine, however, thinks Licht could trade up for a quarterback or left tackle.
If quarterback Hendon Hooker (Tennessee) is available — it's been tough to forecast exactly where he'll land because of a torn ACL — I could see that, or if there was a run on offensive tackles similar to 2020, when they landed Tristan Wirfs. But don't expect them to move far — maybe one or two spots — because they have too many needs to fill.
That sort of makes sense. If a team in the middle or Round 1 is trading up just one or two spots in, the ransom is only a third-day draft pick (and the original first-round slot).
Joe guesses it's better to trade up a spot or two for a desired left tackle instead of pulling a rib cage muscle reaching for a guy.
---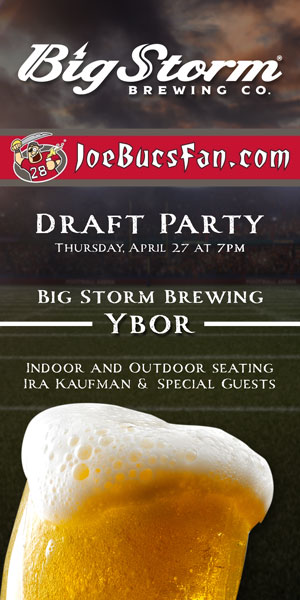 Great fun ahead at the brand new Big Storm taproom in the heart of Ybor City! Upstairs in Centro Ybor with public parking all around. It's big, bold and beautiful. 
…Courtesy of Florida's Elite Restoration, you can win $500 in our "Pick The Pick" contest, which was a huge hit at the 2021 NFL Draft party, plus another $500 in an additional contest. Hang with great Bucs fans, Ira Kaufman and Florida's best craft beer and food.