Does Todd Bowles View Baker Mayfield As An Established Veteran Or A "Young Guy?"
April 10th, 2023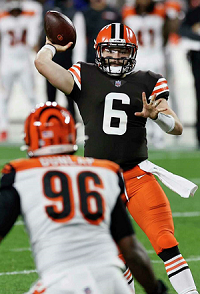 The question in the headline is relevant following Todd Bowles' comments at the NFL meetings in Phoenix last month.
Joe was sitting immediately to the left of Bowles at the NFC Coaches Breakfast table. Joe and Rock Riley were the only local media on the scene, so there was a hearty share of what Joe calls drive-by questions from out-of-town reporters coming over briefly to lob Bowles a query or two.
Among the Tom Brady questions were some seemingly designed to feel out Bowles' take on Aaron Rodgers and New York Jets bosses co-existing.
Bowles through this take into the mix, "When you have a young [quarterback], you have to bring them along to learn the system and learn the NFL game. I think there are two different ways of teaching that. You're still trying to find out about a young guy. An old guy, you know what he can do. It's just a matter of collaborating and doing the things you want to do along with the things he wants to do."
So that got Joe wondering whether Bowles considers new Bucs quarterback Baker Mayfield an established entity at the position, or whether he sees the sixth-year QB as a "young guy."
If Bowles sees Mayfield, 27, as a proven veteran, then it sounds/seems hard to believe competing Kyle Trask has a real chance to win the starting job.