Condolences To The Shaq Barrett Family
April 30th, 2023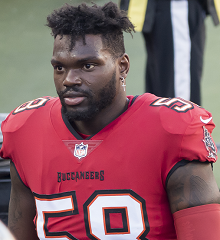 Joe and Ira Kaufman express deep condolences to Bucs sacks king Shaq Barrett and his family today.
Shaq's daughter Arrayah, just 2 years old, drowned in the family's swimming pool in Tampa this morning and the Buccaneers confirmed the horrible news. She was the youngest of his four children.
Shaq bought a home in South Tampa with his wife after signing a multiyear deal with the Bucs following the 2020 Super Bowl season.