Welcome New Bucs Fan Kurt Warner
April 30th, 2023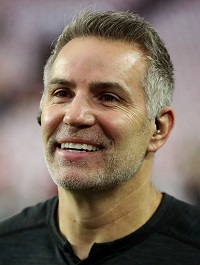 The Buccaneers have a high-profile new fan, and for good reason.
Hall of Fame quarterback Kurt Warner, a hero of all undrafted free agents, is the newest member of the Tampa Bay bandwagon.
Why? His son Kade is now on the team. An undrafted free agent receiver out of Kansas State University, Kade Warner was signed by the Bucs last night.
What a story the younger Warner is. He went from walk-on to captain at Nebraska and then transferred to K-State, where he also became a captain before he ever caught a touchdown pass at the college level. That certanily speaks to how hard Warner works and what kind of teammates he is.
Regardless, Joe and Bucs fans want production. Warner played slot receiver and outside in college. His best career season came last year with 46 receptions for 456 yards and  5 toucdowns.
In an interview with SI.com, Warner explained that he's almost always tried to conceal that his dad is Kurt Warner when he's in football settings. Though the two are close, Kade Warner said he's always wanted to make it in football as his own man.
Warner measures 6-1, 203 pounds and he ran a 4.7-second time in the 40 yard dash. That won't scare anyone, but maybe he can become a taller but slower version of Adam Humphries.
Will Howard to Kade Warner 4th down TD

-Play if the year nominee- pic.twitter.com/WVEplKPZbW

— The Kansas State Fan (@Thekstatefan) November 8, 2022