Bucs Use Final Sixth-Round Pick On Linebacker José Ramírez
April 29th, 2023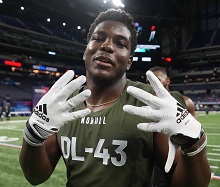 It seems the 2023 NFL Draft is over for our beloved Tampa Bay Buccaneers. And it ended where it started, with a defensive pick.
The Bucs drafted Eastern Michigan linebacker José Ramírez with their third sixth-round pick of the day. (Their seventh-rounder is gone.)
Ramírez had a breakout season last year with 19 1/2 tackles for loss and a 12-sack season. He stands 6-2, 242 pounds and isn't exceptionally fast, but seems to play faster than his 40-yard-dash time.
Joe can't see Ramírez as a candidate to play inside linebacker, especially after the Bucs picked one in SirVocea Dennis midway through Round 5. He's more of an edge rusher, and you never know when it comes to edge rushers developing over time. Bucs sacks king Shaq Barrett entered the NFL as an undrafted free agent.
Eastern Michigan's Jose Ramirez fits the profile of a good wide 9 edge rusher. Impressive speed and that bend! pic.twitter.com/TwHazyKPvt

— Ian (@NFLFilmStudy) February 3, 2023