Rough Weekend For The Buccaneers' Ticket Sales Department
April 29th, 2023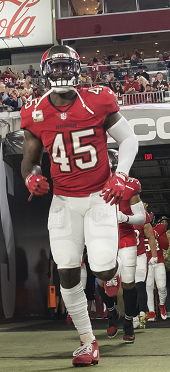 Joe always keeps it real with Bucs fans and always shares a strong feeling about the team.
The 2023 NFL Draft ended today and Tampa Bay is one boring football organization, relatively speaking. Not since 2014 have the Bucs been this much of a spring snooze.
Of course, Joe is always excited to live and breathe Buccaneers football, and thankfully tens of thousands of people come here daily to do the same thing. But beyond the serious fans (and even for some of them), the Bucs are one stale franchise right now.
Joe hasn't seen this little national interest in the Bucs since perhaps the 2014 or 2018 season. Local interest is down, too; there is tangible and anecdotal evidence.
The Bucs used their first three draft picks this week on players in the trenches. That's a Tampa Bay first since 1982. Drafting like that doesn't get the masses fired up. And the later round picks are not exceptionally exciting.
Throw in spotlight averse Team Glazer and head coach Todd Bowles, who trends boring on most days, and it all makes for a flat team that lost big-name players over the past two offseasons.
General manager Jason Licht is fine in the public eye, but he's not charismatic and is about to disappear from the limelight for several months. Licht even passed the baton to his right-hand man, John Spytek, for the closing draft press conference this evening.
Devin White wants to leave. Tristan Wirfs is a giant teddy bear of a personality. New offensive coordinator Dave Canales is little known, but he did prove to be a very engaging guest on the Ira Kaufman Podcast.
The Bucs' big-name wide receivers are reserved dudes. Heck, they don't even have nicknames. (Is there a good nickname on the Bucs besides backup running back "Sneak" Vaughn?)
Joe is starting to think Baker Mayfield being Baker Mayfield might be the best and only option to fire up Bucs fans before opening day. So Joe feels tonight for the season ticket sales folks who have to smile and dial on Monday morning to try to fill The Licht House for the 2023 season.
To clarify, Joe isn't knocking anyone here. It's not the front office's job to care about anything other than building a winner, same for the head coach.
But along the way the business of Bucs football churns 24/7, and it's not very exciting for a lot of fans right now.