Buccaneers Pick Edge Rusher YaYa Diaby In Round 3
April 28th, 2023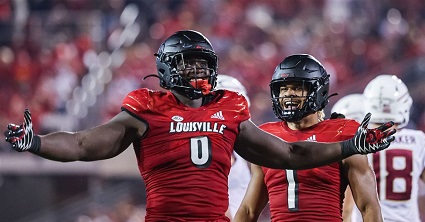 The Bucs went with a bit of an atheltic freak in University of Louisville edge rusher YaYa Diaby in Round 3 tonight.
At 6-3, 263 pounds, Diaby cranked out a 40-yard dash in 4.51 seconds at the NFL Scouting Combine. And he's got a 37-inch vertical leap. That's special raw talent.
The former junior college great at Georgia Military College played two seasons for Louisville. He was third-team All-ACC last season with 37 tackles, 14 for loss with nine sacks.
Diaby comes off both edges on the pass rush and certainly the Bucs must be happy they got fresh legs in the fire in case Bucs sacks king Shaq Barrett isn't able to return strong from his torn Achilles.
Joe had seen Diaby in Round 2 of multiple mock drafts, so perhaps the Bucs got fantastic value here.