Buccaneers Pick Defensive Tackle Calijah Kancey
April 27th, 2023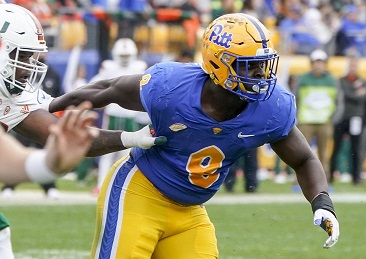 Our beloved Buccaneers just found a wild X-factor of a speedy inside pass rusher to put next to Vita Vea.
With the No. 19 overall pick, the Bucs picked University of Pittsburgh defensive tackle Calijah Kancey.
The ACC Defensive Player of the Year is a jolt of lighting in the Aaron Donald mold, freakishly quick and Donald-sized (6-1, 281 pounds in February).
One could argue that selecting Kancey in Round 1 of the draft this year, especially at No. 19 overall, is a senseless move for Tampa Bay. Why? Because the team just signed young veteran Greg Gaines to play alongside Vita Vea in the defensive trenches, and versatile defensive lineman Logan Hall was drafted last year as the first overall pick in Round 2.
But Joe would counter by saying inside hell-raisers on the defensive line can be total game-wreckers, and considering the Bucs' edge rush is highly suspect, maybe Kancey is a prime fit.
Former Jets personnel executive and defensive coach Pat Kirwan co-led an on-air mock draft recently and was in charge of the Bucs' pick at No. 19 overall. Kirwan had the Bucs trading down with Minnesota to the No. 23 overall pick, with Tampa Bay also getting the Vikings' second-round pick in 2024.
Then at No. 23 Kirwan had the Bucs selecting Kancey, "the penetrating tough guy," Kirwan called him.
But the Bucs grabbed him at No. 19.
Joe gets that most fans won't be excited about this pick because the Bucs are desparate for an offensive line upgrade. But Joe understands the Bucs wanting to pounce on Kancey, who is one of the biggest wild cards in the draft.
Kancey is undersized but similar size as Donald — and with similar freak athleticism. Kancey ran the fastest 40-yard dash for a defensive tackle since 2003 at the Combine. His film makes any football fan sit on the edge of his chair.