Todd Bowles Reflects On Wanting, Losing Sean Murphy-Bunting
March 31st, 2023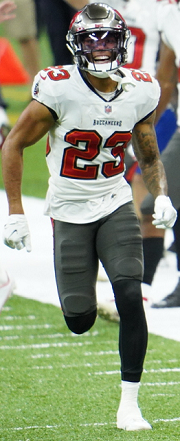 Five very young defensive backs were groomed by Todd Bowles and became key cogs in the Buccaneers' Super Bowl season of 2020.
Two of those DBs found new teams this month in free agency.
The 2019 second-round pick, cornerback Sean Murphy-Bunting, grabbed a one-year contract from the Tennessee Titans. With him went nine career interceptions. (Jamel Dean and Carlton Davis each have 7.)
When Joe talked to Bowles on Tuesday in Phoenix, it almost sounded like a little piece of his football heart left with Murphy-Bunting.
In December, Bowles talked about Murphy-Bunting being as smarter or smarter than anyone on his defnese. Back in October, Bowles said Murphy-Bunting is future NFL coach material.
Joe asked Bowles to talk about losing one of his prized pupils.
"Sean's a good football player. You know, when you reach free agency, you have to make decisions and I would have loved to have Sean back," Bowles said.

"I think once Dean signed we didn't have a whole lot of money to give out anyway. I think once Dean signed, you know, I guess he decided to go somewhere else. We'll still be close for forever and a day. I will never lose that from him and I wish him all the best. But I still think he's a very good football player. Him getting hurt early on kind of hampered him some, but when he got back healthy I think he played some good ball. I think there's a lot of good football ahead for him."
Bowles will see Murphy-Bunting this season when Tennessee plays at The Licht House.
Will the Bucs miss SMB? That's unclear. But he and safety Mike Edwards, now with the Chiefs, combined for 8 interceptions, 3 touchdowns and 2 forced fumbles over the past two seasons (including playoffs).