The Smartest Defensive Player?
December 28th, 2022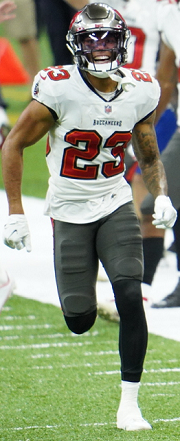 If you're looking for a hint that the Buccaneers want cornerback Sean Murphy-Bunting to be re-signed for next season, this may be the biggest one yet.
For this exercise, Joe will assume head coach/defensive playcaller Todd Bowles returns for his second season at the helm of the Buccaneers.
Bowles spoke yesterday about Murphy-Bunting's command of the defense. Bowles is known for valuing football intelligence, so this really struck Joe.
"Sean's extremely smart. He understands the gameplan as well as anybody, and he understands what he sees, what's coming at him," Bowles told the Buccaneers Radio Network. "So he plays even faster than what he's looking at."
Bowles went on to praise Murphy-Bunting's production the past two games.
Murphy-Bunting was benched during the first three games of the season, only playing on special teams. Then he got back on the field a bit before getting hurt in Week 12. He returned two games ago and has looked good. The timing is right; his contract is up after the season along with those of fellow defensive backs Jamel Dean, Logan Ryan, Mike Edwards and Keanu Neal.
Earlier this year, Bowles said he believes Murphy-Bunting would make a good NFL coach. That's the kind of guy someone like Bowles wants to stick around.
---
(Tuesday's Ira Kaufman Podcast) Ira Talks Frustrated Mike Evans, A Bowles-Leftwich Disconnection, Cardinals Game Reactions, The Glazer-Brady Relationship, Defensive Personnel & More