Team Glazer Talks Quarterbacks
March 30th, 2023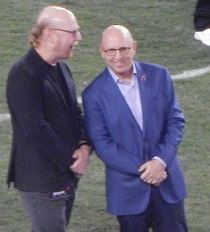 The Buccaneers' owners, aka Team Glazer, were talking Bucs with Joe this week at the NFL Annual Meeting, aka the NFL owners work and party retreat in Phoenix.
Yesterday, Joe shared co-owner Joel Glazer's take on head coach Todd Bowles.
Today, the subject on the buffet is quarterback.
JoeBucsFan.com: Quarterback is the money position for every franchise. And Bowles told CBS Sports at the Combine a few weeks ago that he sat down with "Jason and the Glazer family" to talk about the position and the direction there. What should fans know about your role in setting the direction at quarterback and how do you feel about the current quarterback situation?

Buccaneers co-owner Joel Glazer: As everyone knows, quarterback is a critical position on the football team and we've been lucky the last three years to have the greatest of all time. But we all knew at some point that Tom was going to retire and we'd have to turn the page and look to the future, so when we drafted Kyle a couple of years ago, everyone thought highly of him. He's been able to sit and learn, which a lot of young quarterbacks don't. So we're excited to see what he can do. And then bringing in Baker Mayfield, Baker has had success in this league. He's been around for several years and I think he will be well served by getting to a camp early, a fresh start for him. Competition is always good and we're looking forward to the competition in training camp.
Well, Mr. Glazer did not address Joe's question about ownership's role in quarterback direction, but Glazer did into the current state of the position.
Glazer makes an often ignored point about Kyle Trask; he's had two years to soak in superior coaching and mentorship while only being tasked to learn and hone his craft. That's rare in the NFL for a talented QB coming out of college.
Bucs fans will find out quickly if Trask was able to capitalize on that opportunity, or whether he is more of a learn-by-playing-in-games guy.
Glazer noting the "fresh start" for Baker Mayfield is important on various levels.
Bowles emphasized to Joe in a 1-on-1 chat Tuesday how Mayfield and Trask will learn a brand new offense at the same time, so it's truly a fresh start and level playing field for both.