Ronald Jones Joins The Cowboys
March 21st, 2023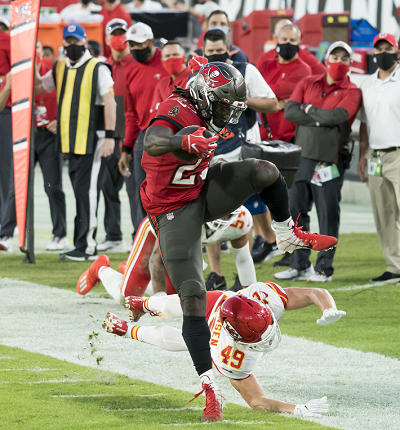 Former Bucs running back Ronald Jones, a 25-year-old with two Super Bowl rings, will be tasked with filling the shoes of Ezekiel Elliott in Dallas.
It's a bit of a mind-blower. Jones has a new job before fellow Bucs Super Bowl running back Leonard Fournette — after Jones barely saw the field for the Chiefs last season.
RoJo visited with the Cowboys yesterday. Multiple reports said he had a workout, and today he has a contract.
Joe wonders if Jerry Jones remembers how Tom Brady and Bucco Bruce Arians hosed Jones out of a 1,000-yard season so Antonio Brown could get more money for legal fees.
Regardless, Joe couldn't pass up sharing the latest on the first of Tampa Bay's picks in Round 2 of the 2018 NFL Draft. The others were cornerbacks M.J. Stewart (now with the Texans) and Carlton Davis.
Joe wishes RoJo well. And Joe hopes RoJo realizes choosing to run out of bounds versus battling for extra yardage will go over a lot worse in Dallas than it did in Tampa (see 2021).