Frustrating Decision-Making To End Game
January 3rd, 2021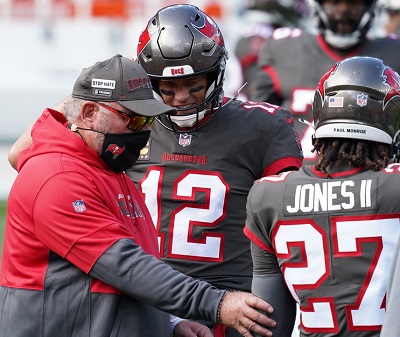 So with a 44-27 lead, the Bucs didn't just fail to hand off to Ronald Jones so he could get a shot at 1,000 yards rushing, coaches freakin' asked RoJo to block while they threw short twice to Antonio Brown.
What the hell was that?
First, Brown senselessly could have gotten hurt, and that would have been a disaster after Mike Evans' knee injury that might end his season..
Second, RoJo, while wearing a cast for a busted finger, was put in unfamiliar territory, blocking out of the backfield as the ball went to Brown on wide runs. And if RoJo was healthy enough to risk injury doing that, then he should have gotten the football as he was only 22 yards from a 1,000-yard season.
Maybe there are fans smarter than Joe out there who can explain this apparent thoughtless nonsense.
Joe's just pissed that RoJo didn't get a shot at that 1,000-yard mark. Joe remembers the Bucs making it happen late in the fourth quarter for LeGarrette Blount in the season finale back in 2010 — with a Bucs win in hand.
Joe will be over it in a few hours. But it just felt all wrong on so many levels.