Damien Harris And The Bucs
March 20th, 2023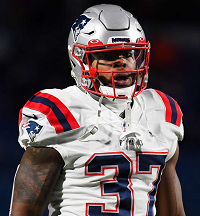 Joe was among the many fans disgusted by the horror show that typically was the Buccaneers' short-yardage running game last season.
Leonard "Lombardi Lenny" Fournette was inexcusably soft in that department, and Rachaad White was ok at best.
With Todd Bowles and new playcaller Dave Canales committed to pounding the rock, Joe thinks the Bucs need a more reliable option on 3rd-and-2 (yes, Joe expects this offense to hand off a lot in that situation).
Sitting on the free agent running backs market is Patriots bruiser Damien Harris. This doesn't surprise Joe considering Bill Belicheat seems to hate paying running backs.
Once upon a time in 2016, former Bucs running back LeGarrette Blount hammered away for 1,161 yards and 18 touchdowns in New England — eighteen! — and Belicheat let him walk in free agency. The Eagles signed Blount for a shade over $1 million and proceeded to win the Super Bowl that season with him Blount as a big contributor.
Harris just turned 26 and has a career average of 4.7 yards per carry, and he has been a beast in short yardage. In 2021, he was the Patriots starter (a team that went 11-5) and churned out 929 yards and 15 touchdowns on 202 carries.
The free agent market is depressed for running backs because there is so much talent in the draft, and rookie RBs continue to thrive in the league year after year. So Joe thinks Harris would come cheap and provide great competition for Rachaad White.