Baker Mayfield Lauds Open Mind Of Dave Canales
March 20th, 2023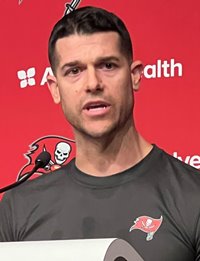 When Joe sat down with new Bucs offensive coordinator Dave Canales at the NFL Scouting Combine, the message was clear: the new Bucs system would be crafted for the pieces in place — and they weren't all there yet.
There would be no demanding to do X if the Bucs didn't have the horses to do X.
Great coaches adjust and play to their roster's strengths and abilities. The lesser ones stick to a system and don't adapt.
Canales strives to be flexible, and today new Bucs quarterback Baker Mayfield praised the approach — because he's seen how ugly a closed-minded way can be.
"How [Canales is] going to tailor the offense to his playmakers, to me that speaks volumes," Mayfield said at one Buc Palace. "You find a lot of [coaches] that want to just run their system without really trying to play to the attributes of their players. And that's not Dave, so I'm excited about it."
Joe screams a hearty, "Amen!" after watching offensive coordinator Byron Leftwich seemingly be disinterested or incapable of adjusting last season.
Joe isn't sure if Canales, a first-time coordinator, is up for the job. But at least he's coming at it the right way.
Mayfield and the Bucs will hit the practice field for spring sessions one month from today.