Buccaneers Sign Baker Mayfield
March 15th, 2023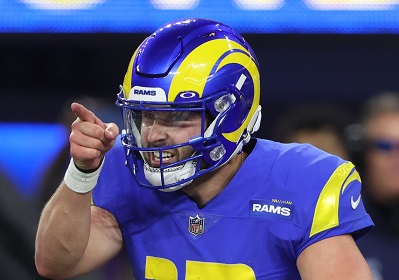 He's no Tom Brady, but our beloved Buccaneers now have a real starting quarterback in the house.
And it's official, the Bucs are not tanking the 2023 season to #CollapseForCaleb.
Baker Mayfield, the 2018 No. 1 overall pick, is now a Buccaneer and will compete with Kyle Trask to replace Brady.
Trask has zero career starts in two years and will earn $1.15 million this season. Mayfield has a playoff win with the Browns plus a 31-38 regular-season record. He turns 28 next month and will earn at least 8 times Trask's salary. (Gee, wonder who the Bucs' want to/expect to start?)
The Bucs now have the only NFC South quarterback with a playoff win under his belt (at Pittsburgh in the 2020 postseason), and Mayfield is blessed with the best group of wide receivers in the division.
Joe finds this to be a very exciting signing, in large part due to the mess that is the NFC South. Mayfield isn't butting heads with Drew Brees, Matt Ryan and Cam Newton in their primes; he may be the best quarterback in the division on opening day.
Mayfield proved last season with the Rams that he could hit the ground running as a starter after being signed in December. That's impressive for any quarterback. So Joe assumes Mayfield will be a quick study in Dave Canales' new Buccaneers system — while Trask has been described by previous Bucs coaches as a deliberate (slow?) learner.
Todd Bowles has an interesting history with Mayfield. So does Bucco Bruce Arians.
It truly is a new day in Tampa Bay.