Tom Brady Retirement Video Shot Days In Advance
February 6th, 2023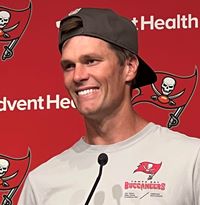 Intriguing report from NFL Network host, personality and FOX reporter Peter Schrager, a friend of Joe who is tight with folks in the Buccaneers' front office.
Schrager hosts The Season, a podcast promoted by NFL.com in which he dives deep into various subjects and talks to top-shelf NFL guests.
Remember Wednesday's retirement video posted by Brady on social media?
Brady opened it with this statement: "Good morning, guys. I'll get to the point right away. I'm retiring. For good. I know the process was a pretty big deal last time. So when I woke up this morning I figured I'd just press record and let you guys know first …"
Obviously, the implication was that Brady recorded the video on that day. That's what he wanted fans to believe. But that's not what happened, per Schrager.
Schrager said "the video was filmed days [in advance], so that wasn't filmed [Wednesday morning]. That was a video that he filmed days ago. He went to the 80 For Brady movie premier Tuesday night in Los Angeles. That would not be him on the beach Wednesday morning. … The big takeaway is that he's known for some time now that he was retiring."
Schrager said his sources confirmed the video was shot long before it was released. Bucs sources said they found out that Wednesday morning before the public, Schrager added.
No wonder Brady wouldn't answer a question today about the moment he decided to retire (or whether he's 100 percent done as a quarterback).
Joe almost feels bad for Brady since the guy can't seem to relax and be himself. Everything is so darn scripted and calculated.