What Was Learned In Todd Bowles' First Season
January 15th, 2023
One guy with a history of shaky quarterback decisions seems to think the Bucs nailed it by elevating Todd Bowles to take over the Bucs. Joe thinks the move showed something else.
Joe thinks the jury is still out on Bowles as head coach. Yes, he got the Bucs to the playoffs with a division win. That's fantastic! Flip the coin and it's hard to ignore the Bucs have a losing record, with Tom Brady at quarterback.
(Yes, Joe believes if starters stayed in the Atlanta game last week, the Bucs would have blown out the dreadful Dixie Chicks. The Bucs, after all, were winning when the starters were pulled.)
Five first-year head coaches led teams to the playoffs this weekend. And former Jets and Dolphins shot-caller Mike Tannenbaum says this demonstrates each team hired the right man.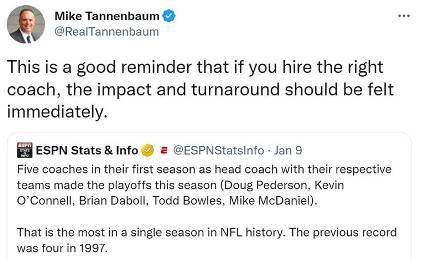 So what did Joe learn with Bowles as Bucs head coach? Not much. (Joe's not going to dig into his tenure with the Jets. Different time; different team; different chapter.)
Joe thinks Bowles has been Bowles. The Bucs defense, despite being riddled by injuries, has been good. Joe bets a lot of fans would have expected the defense to collapse after losing Bucs sack king Shaq Barrett. It hasn't.
And props to Bowles for adjusting his defense midseason to compensate for an offense that couldn't score with $2,000 cash in hand in a Las Vegas casino full of working women on the prowl.
Joe thinks much more was learned about failing offensive coordinator Byron Leftwich than Bowles.
Simply put, Leftwich has been exposed now that his safety blanket, former Bucs Super Bowl-winning coach Bucco Bruce Arians, is no longer heavily involved in day-to-day workings of the team.
To have a losing record with Tom Brady, Mike Evans, Chris Godwin, Playoff Lenny, Tristan Wirfs and Shaq Mason, and being unable to score more points than the worst team in the NFL, Da Bears, is absolutely mindboggling and is coaching malpractice of the highest order.
If Joe had to rap Bowles' knuckles with a ruler (yeah, Joe has lingering nun issues), it would be that he didn't launch Leftwich after his grossly irresponsible gameplan against Pittsburgh and the offense's disgraceful performance the following week against a team that just launched its head coach, the Stinking Panthers.