Largest Single-Season Offensive Crash Since 1976
December 25th, 2022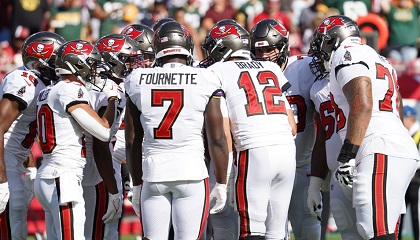 This stunning statistic, not derived by a bunch of acronym-peddling, numbers-twisting, subscription-selling freaks, should turn the head of every Bucs-loving being on the planet.
As of today, Todd Bowles and Byron Leftwich are presiding over the worst one-year dropoff in points scored by a team since the 1976 Buffalo Bills took the field. And that Bills team had an excuse; their stud starting quarterback was lost with a back injury at midseason.
What's the Bucs' excuse?
Tampa Bay is averaging 12.4 points per game less than it did a year ago. Those Bills were down 12.5 points from the previous season. (Data courtesy of CBS Sports HQ.) The team with the biggest dropoff came before the Bills, so the Bucs are riding a modern-day record — with Tom Brady starting every game!
When will the madness stop? And why can't so many offensive geniuses at One Buc Palace right the ship?
Joe still can't believe Leftwich has been left to ride out the madness. And it's hard to consider Bowles a strong football man if he can't roll up his sleeves and help find successful tweaks to the offense.
Joe sure hopes the Bucs and Brady dig out of the awful numbers over the next three games, including tonight at The Bird Cage against a brutal Cardinals club. It will be hard to consider Brady a superior investment for next season if he can't pull that off.