"We Thought We Was Hot Stuff Back Then"
January 12th, 2023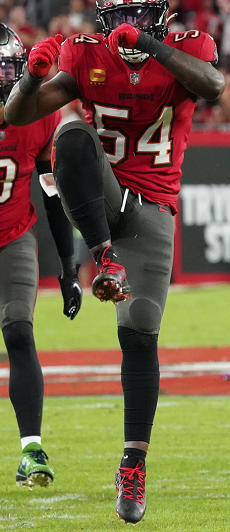 Lavonte David got out his pen (red?) and wrote a message to his teammates.
No, nothing like The Jameisburg Address of 2016. David said he wrote on a locker room board, "It's a new season."
David talked to media yesterday and made it clear that regular season records for all teams are now meaningless. But since he also said Dallas appears a better football team, Joe got a little queasy.
The iconic Bucs linebacker was asked about Tampa Bay beating the Cowboys 19-3 on opening day and what has changed since.
"That was 17 weeks ago. This is a different football team," David said. "We thought we was hot stuff back then, but, you know, they got the better record. It seems like they got the better football team."
He went on to say the Bucs are definitely "a confident group" heading into Monday's playoff clash, and there's no reason their best performance shouldn't be enough to win. He pointed to the defense recovering from "a big dropoff" in turnovers, which are necessary in the playoffs.