No Bucs On Players' All-Pro Team
January 12th, 2023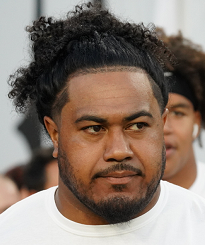 Joe applauds the NFL players union for getting smart.
Every year, a panel of 50 esteemed media types handpicked to represent the country vote for the prestigious Associated Press All-Pro team. It's been going on for years and the voters take it seriously. Sage JoeBucsFan.com columnist Ira Kaufman is the only voter in the Tampa Bay area.
This year, finally, players got smart and decided to come up with their own All-Pro team through a process organized by their union.
The rules included only active players that played in a minimum amount of games this season being able to vote — and only vote for players at their position group and at positions they have a direct connection to. So, for example, Tristan Wirfs didn't get to pick the best cornerback in the league.
Joe thinks it's a fantastic idea that could reshape Hall of Fame voting in future years.
The union released the results this week and the winners are below, via a cut-and-paste job from ProFootballTalk.com.
Sadly, no Buccaneers player made the list. Joe realizes many Bucs fans might be stunned that Giants nose tackle Dexter Lawrence won out over Vita Vea, and that Tristan Wirfs didn't make the cut.
Falcons returner Cordarrelle Patterson (who also plays offense) is the only NFC South representative.
Quarterback: Patrick Mahomes (Kansas City)
Running back: Josh Jacobs (Las Vegas)
Fullback: Kyle Juszczyk (San Francisco)
Wide Receiver: Justin Jefferson (Minnesota), Davante Adams (Las Vegas)
Tight End: Travis Kelce (Kansas City)
Left Tackle: Trent Williams (San Francisco)
Left Guard: Joel Bitonio (Cleveland)
Center: Jason Kelce (Philadelphia)
Right Guard: Zack Martin (Dallas)
Right Tackle: Lane Johnson (Philadelphia)
Edge Rusher: Nick Bosa (San Francisco), Myles Garrett (Cleveland)
Interior Defensive Lineman: Chris Jones (Kansas City), Aaron Donald (LA Rams)
Nose Tackle: Dexter Lawrence (New York Giants)
Off-Ball Linebacker: Fred Warner (San Francisco), Roquan Smith (Baltimore)
Cornerback: Pat Surtain II (Denver), Darius Slay (Philadelphia)
Free Safety: Minkah Fitzpatrick (Pittsburgh)
Strong Safety: Derwin James Jr. (LA Chargers)
Kick Returner: Cordarrelle Patterson (Atlanta)
Punt Returner: KaVontae Turpin (Dallas)
Core Teamer: Jeremy Reaves (Washington), Justin Hardee (NY Jets)
Kicker: Jason Myers (Seattle)
Punter: Tommy Townsend (Kansas City)
Long snapper: Morgan Cox (Tennessee)