Third Double-Digit-Points Comeback Of The Season
January 1st, 2023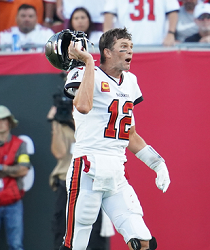 Mike Evans said it best after today's thrilling win against Carolina. It seems the Bucs play best when "our backs are against the wall."
Today was the Bucs' third comeback "W" of the season when trailing by double digits in the fourth quarter. Tom Brady and the offense were unleashed and dropped a 20 on the board to bury the Stinkin' Panthers, with an assist to the defense.
Yeah, the offense was a little more open early in the game than usual, but when the hurry-up commitment came late, the Bucs exploded — again.
Winning football in January and February is about big players stepping up. The Bucs got that today across the board, Mike Evans, Chris Godwin, Tom Brady and lesser names like Anthony Nelson and more.
"You wonder, where's it been all year?" asked Terry Bradshaw, Howie Long and Michael Strahan of the Bucs offense on the FOX postgame show.
The answer really doesn't matter now. The Bucs are in the playoffs. Swagger and confidence has returned to the passing game, and the Bucs believe they can beat anyone.
Tom Brady 63-yard bomb to Mike Evans 🔥pic.twitter.com/FD5jzjJ2jP

(via @Buccaneers)

— NFL on ESPN (@ESPNNFL) January 1, 2023