Buccaneers Hero Jake Camarda
January 1st, 2023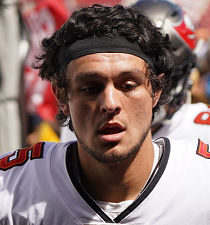 UPDATED: 6:15 p.m. — Joe literally has watched this play 10 times and it gets more unbelievable each round.
Rookie punter Jake Camarda might have saved the Bucs' season with 40 seconds remaining this afternoon.
Give that young man a game ball!
The dysfunctional Bucs special teams botched a low snap to Camarda on a punt with him standing at his own 41 yard line awaiting the ball. Not only did Camarda pick up the bouncing ball that squirted behind him, he sprinted to the left sideline, eluded two tacklers, and gained 10 yards before a attempting a running punt that was downed inside the Panthers' 5 yard line.
Joe cannot express enough the difficulty level of that play for a right-footed kicker whose momentum — in traffic — was going away from his kicking foot. Unreal.
"I have never seen a punter make an athletic play like that," head coach Todd Bowles said.
Rookie tight end Ko Kieft was flagged on the play for being downfield when he shouldn't have been. But Camarda's damage was done. Carolina declined the penalty and Camarda lined up to re-kick after burning time off the clock.
The next snap was good and Camarda dropped a high beauty downed around the 10 yard line.
Ballgame.
A lot of fans scoffed and laughed when general manager Jason Licht drafted a punter in Round 4, some wanted the slimy Punt God, others hated the idea and were fine with a punter off the street.
Today Camarda showed one big benefit to having fresh, athletic legs at punter, and to drafting a savvy player with a lot of balls, too.
WOW

Bucs punter Jake Camarda may have just saved Tampa Bay's season with this punt!

(via @NFL) pic.twitter.com/SV36SzcM1z

— FOX Sports: NFL (@NFLonFOX) January 1, 2023