Tanking For A QB In 2024 Is Bad Strategy
January 23rd, 2023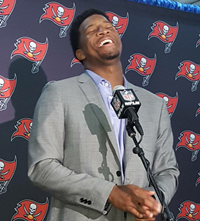 One reason Tom Brady might want to play for the Buccaneers next season also is the same reason it's a bad organizational move to tank the 2023 season for a shot to draft a stud quarterback in 2024.
The reason is simple: the NFC South is horrible, which hurts the odds of winning a tank job. And if you lose a tank job, then you've really set back your franchise.
Look at the Panthers this season. They started 1-5 and then Panthers owner David Tepper and management sounded the tanking alarm. They cut quarterback Baker Mayfield and traded their best player, Christian McCaffrey, to San Francisco for four draft picks.
Smart move. But look at the result.
Despite starting a former XFL quarterback for a stretch, Carolina finished 7-10 in the miserable NFC South and now sits with the No. 9 pick in the 2023 NFL Draft. At least three quarterback-needy teams draft before them, and that number could be as many as five.
Sage of Tampa Bay Sports Ira Kaufman, after talking to Falcons head coach Arthur Smith at the 2022 NFL Owners Meetings, came away thinking the Falcons were tanking this season to set themselves up for the 2023 draft.
The Falcons even signed brittle runaround QB Marcus Mariota to be their starter, installed a rookie third-round pick behind him and didn't bolster their pass rush. Like Carolina, Atlanta also finished 7-10.
Some fans want the Bucs to go young next season, clear salary cap room and give it their best (worst?) shot to score a special pick in the 2024 draft so they can land a stud young QB.
Joe maintains that attempt would be a low-percentage play in the NFC South, which is littered with bad head coaches and teams with massive holes.
The Bucs lost every division game in 2014, when they tanked and won The Chase For Jameis, in part because Cam Newton, Drew Brees and Matt Ryan were in their primes.
Of course, that season ultimately served as a reminder that top-pick quarterbacks too often prove to be second-tier players.
Joe would puke if the Bucs tried to tank for a QB and failed.