Sean Payton-Denver Broncos Talks Improve Brady Odds Of Staying In Tampa
January 7th, 2023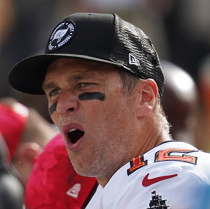 Joe is all fired up at tonight's news that the slimy Saints have given the Denver Broncos permission to talk to their still-under-contract former head coach, Sean Payton, per ProFootballTalk.com.
The Saints own the rights to Payton since he quit last year while still under contract.
New Orleans is seeking draft compensation to release Payton, but there have been rumors that New Orleans would prefer to keep Payton — and bring him back next season with Tom Brady as his free agent quarterback. The duo was trying to play for the Dolphins last season, which led to Miami getting slapped by the NFL for tampering.
As Mike Florio of ProFootballTalk.com noted, Denver wouldn't be talking to Payton if they weren't free to land him. And Joe sees that as a powerful sign Brady will not play for the Saints next season — or the bumbling Broncos.
Taking the job also would mean Payton wouldn't refuse the chance to work with quarterback Russell Wilson. At a time when many wonder whether Wilson is fixable, Payton apparently thinks Wilson is — unless this is all about getting other teams interested in chasing Payton.
The Broncos still owe Russell Wilson more than $100 million guaranteed and no team will trade for that contract.
However you want to spin this, it's a step toward Payton not coaching in the NFC South next season, which is a good thing.
And one less relocation option for Brady puts the Bucs one step closer to bringing back Brady for Year 4 of this ongoing Bucs-fan fantasy.