All-Purpose Lenny
January 7th, 2023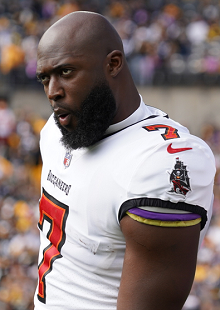 Only one Buccaneer ranks among the top-25 in the NFL this season when it comes to yards from scrimmage.
That's a guy who has become a favorite punching bag for too many Bucs fans, Leonard "Lombardi Lenny" Fournette.
Fournette ranks tied for 23rd in the league in yards from scrimmage with 1,187 — 668 on the ground and 519 through the air. Among running backs, only Christian McCaffrey and Austin Ekeler have more receiving yards. Fournette's 7.2 yards per catch is solid; his 3.5 yards per carry is not.
Last season, Fournette ranked 17th in the NFL with 1,266 yards.
Fournette is not the Pro Bowl back that a lot of fans demand, and rookie Rachaad White seems to have won the affection of a majority of hardcore Bucs fans, but Joe appreciates Playoff Lenny and his accomplishments after getting injured during a powerful opening night against Dallas.
Short yardage isn't Lombardi Lenny's forté, and his season can't be labeled explosive, but Joe is not ready to hand the ball over to White and put Lenny on the bench. And Joe also wouldn't bet against Lenny in the postseason.