Rita Moreno: Bucs Defense Didn't Help Tom Brady
January 24th, 2023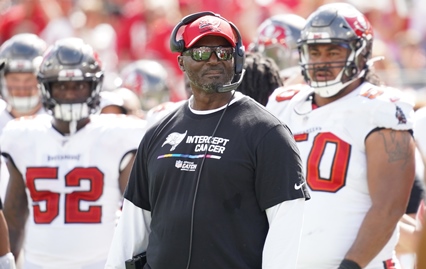 Perhaps the greatest disappointment for Bucs fans last week was the Tampa Bay defense allowing four touchdowns on consecutive drives as Dallas put the game away early.
Todd Bowles is a defense-first head coach in his fourth year leading the Bucs defense. Akiem Hicks and Vita Vea were on the field in front of Lavonte David and Devin White, and the defense overall was rather healthy.
Joe expected the Bucs offense to struggling mightily, but the defense? Their showing really let the air out of Joe's balloon.
With all the Tom Brady-Byron Leftwich drama of the past week, it's been easy to forget that the Bucs defense whimpered in January. That includes falling behind to the Panthers and allowing them 400 yards of offense, and the defensive backups getting hammered by the Falcons in a loss.
One fan who could see this was legendary 91-year-old actress Rita Moreno. She's among the stars of the 80 For Brady movie to be released in early February. She, Jane Fonda, Sally Field and Lily Tomlin have been doing the promotional circuit and sharing stories of working with the other star of the film, Tom Brady.
Joe has watched the interviews, which are rather boring, but at least a little football was discussed on their visit to TODAY on NBC. Moreno seemed stunned at the suggestion of Brady retiring following the loss to Dallas.
Interestingly, Moreno, per other interviews, seems to be the greatest football fan among the group and admitted to befriending retired running back Marshawn Lynch during shooting of the film. She said she and Lynch have stayed in contact via text since the movie was shot last summer.
Moreno barked at the TODAY interviewer that "the defense did not help [Brady]" against Dallas and, well, Joe can't argue that point.
Joe is not defending Brady. He was bad against Dallas and the defense probably helped him perception-wise because they were awful, too.
Brady would be under more of a football microscope now, Joe believes, if he had failed in a tight game that resulted in more of the blame falling on his shoulders.