A Few Big-Name Tom Brady Updates
January 24th, 2023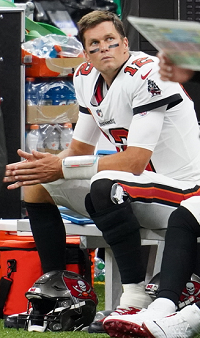 A few power hitters in NFL Media have given their educated Tom Brady guesses in recent days.
Joe will summarize.
First, NFL ultimate super insider Jay Glazer was on the air Sunday doing his regular Q&A segment and was asked about Brady's 2023 plans. Glazer said he believes the Rob Gronkowski take that Brady does not know yet what he wants to do.
Joe buys that because it's highly unlikely Brady has received all the offers that will be put before him.
By NFL rule, only the Bucs can negotiate with Brady — or even talk to him — over the next six weeks. And while deals are done under the table all the time, Joe suspects that landscape has changed a bit with Brady after the Dolphins lost a first-round draft pick last year for negotiating with Brady and Saints head coach Sean Payton while he was under contract.
Then there is Jason La Canfora, the former NFL Network insider who works for CBS. He was on The Zach Gelb Show on CBS Sports Radio and stood by his December report that Brady will play next season but not in Tampa.
La Canfora puts the Raiders as the favorite to land Brady. He also added his hometown of Baltimore as a longshot candidate if the Ravens give up trying to sign Lamar Jackson and Brady wants a great running game, a great head coach and a stud defense to ease his burden.
Lastly is the face of NFL Network, Rich Eisen. His daily Brady "Heat Check" this afternoon on The Rich Eisen Show pegged Brady as not knowing yet what he wants, also because he doesn't have clear picture of all his suitors. Also, Eisen points to Miami as "the spot that checks all the boxes" for Brady.
Again, Joe agrees that Brady doesn't have all his options on the table. Heck, nobody even knows where Sean Payton is going to land, which could be a factor, in addition to how San Francisco plays on Sunday.
As for Miami, Joe has a hard time believing Brady would land in a spot that could put him in a quarterback controversy. Unless Miami gets rid of 24-year-old Tua Tagovailoa, who played fantastically well for much of this season, then Brady would be walking into a potential mess.
Joe can only imagine how Dolphins fans and media would be screaming for Tua if Brady looks shaky through his first month.