Richard Sherman Points A Finger At Tom Brady
January 3rd, 2023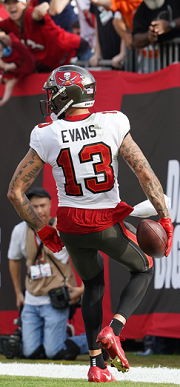 Back when the Bucs were on Thursday Night Football against the Ravens, an argument broke out on the Amazon postgame set between former Buccaneers Richard Sherman and Ryan Fitzpatrick.
Stud receiver Mike Evans led the Bucs that night with 6 catches for 123 yards on 11 targets as the Bucs lost 27-22 to drop their record to 3-5.
Sherman, an Amazon analyst, insisted that was nowhere near enough targets for Evans. He barked that the Bucs need to pump a bunch more passes into Evans because it's an effective strategy. Fitzpatrick argued the point and said Tom Brady doesn't play football by forcing throws and he won't do it. Sherman passionately pushed back and said Brady needs to. Fitzpatrick countered by insisting it won't happen.
"This offense is broken," Fitzpatrick said. "I don't see a fix anytime soon."
They were both right.
After that Ravens game, Evans never got more than 11 targets again — until Sunday, a day in which Evans says Brady told him he'd be firing balls his way "no matter what."
It worked. Evans had the second best day of his career with three touchdowns and was a master of the long ball.
Sherman spoke on his podcast yesterday and seemed to wag a finger at Tom Brady. "It looked like Tom Brady finally understood that, 'Hey, sometimes you can just throw it up to Mike Evans over and over and over again. And it will work," he said.
Sherman went on to repeat what he's said previously, that Brady and Evans lost their steady rapport this season, but he does believe it can come back as quickly as it disappeared.
Joe believes forcing a few too many balls to Evans surely is a better strategy than more runs up the gut.