Panthers Rushers Were Gassed
January 2nd, 2023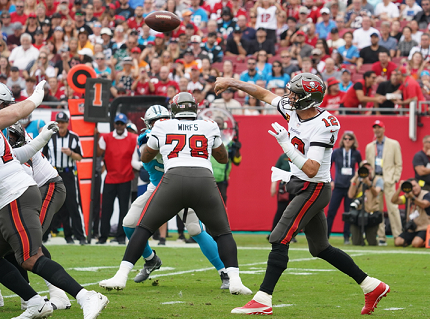 Finally that Tampa heat helped the Bucs win a ballgame.
The Florida swelter often has been referenced as an advantage by Buccaneers coaches through the years, but the hot weather never seems to materialize as a win-maker for the home team.
Yesterday was a different story, it seems.
The Panthers came to The Licht House off a Christmas Eve win in Charlotte against the Lions. Temperatures that day were in the 20s and the wind chill dropped it even further. Yesterday in Tampa, it was about 72 degrees and very humid.
Todd Bowles said on SiriusXM NFL Radio today that the Panthers pass rush got gassed late in the game.
Host Pat Kirwan, a former Jets personnel executive and linebackers coach, who also is a producer on the weekly CBS-TV Studio show, told Bowles that he watched the game with former Super Bowl quarterback Phil Simms. They noticed the Panthers rush looking spent at about the 35th Tom Brady dropback, he said.
Bowles did not dispute the take. "They stayed out there longer than we did and, you know, they got tired."
Brady dropped back 48 times and was lethal in the fourth quarter. Bowles said the extremely muggy conditions worked in the Bucs' favor.
Score one for the Tampa weather.
Maybe, just maybe, the Bucs can get a Mother Nature assist again if the Eagles come to town for the playoffs.