Bucs-Falcons Is A 1 O'Clock Kickoff In Atlanta
January 2nd, 2023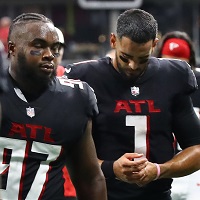 The time and day is finally set.
The NFL's new Week 18 policy to maximize TV exposure for games with playoff implications left this coming weekend's schedule with the infamous "TBD" label.
This afternoon, the NFL announced the meaningless Bucs-Falcons game will be Sunday at 1 p.m. in the Arthur Blank Dome.
Joe advises to stock up on Big Storm Beer at your earliest convenience.