Gerald McCoy And Tony Dungy Say Bucs Have The Edge
January 16th, 2023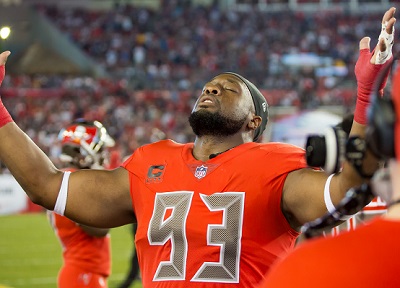 The massive ESPN contingent in Tampa today included six-time Buccaneers Pro Bowl defensive tackle Gerald McCoy.
McCoy loves his Buccaneers and doesn't hide it. He was wearing a Lee Roy Selmon jersey on the set of First Dump with Cowboys Hall of Famer Michael Irvin, Stephen A. Smith and Molly Qerim.
There McCoy told Irvin that all his barking about the Cowboys being ready to win big make him "sound like an old school player trying to get your '79 [Honda] Civic to start."
Irvin shot back at McCoy saying that take reminds him of Tom Brady's 2022 offense — struggling, struggling and struggling.
McCoy, who Joe knows still talks to various Bucs players, believes the Bucs have legitimate momentum behind them including coming out and scoring fast in Atlanta last week before starters were pulled. He says that's critical and includes the return of Ryan Jensen in that upswing, whereas he thinks Dallas is coming off its worst game — one they needed to win.
Irvin is all-in on his beloved Cowboys, but he acknowledged the "deficiencies" in their secondary. That concerns Irvin but he thinks the Cowboys pass rush will win in the end.
After all the hollering, Father Dungy joined the set and things got more normal — and boring.
Dungy said he gives the Bucs the edge tonight strictly from a mental standpoint because of all the negativity surrounding Dallas he thinks will weigh on their team. And he likes how the Bucs are getting key players back in the lineup, and how that should enhance the roster's focus.