An Eye On The Brady Family
January 16th, 2023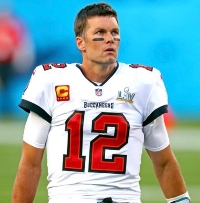 About a year ago against the Rams, a lot of chatter emerged just before the game that Tom Brady had invited a load of relatives to The Licht House because it very possibly was his last game.
Brady retired soon after and then unretired.
In mid-December, Brady and the Bucs got blown out at San Francisco and an interesting nugget emerged on Brady's Let's Go! podcast. Brady revealed that his parents left the game early in the second half.
Dad and mom live about 30 minutes from the 49ers' stadium, which got Joe thinking. Would Brady's dad, his biggest fan, leave early if he believed this is Brady's final season? His final time every playing in his hometown? It was unclear at the time the Bucs would make the playoffs. So Joe considered that a tell that Brady Sr. knew a 2023 season was planned.
Of course, things can change in a hurry. But Joe has been sniffing around and has not found anything to suggest Brady has relatives and special friends flying to town for tonight's clash against the Cowboys, like he did last January.
Joe will be keeping an eye out in the coming hours, but no big guest list for Brady could be the biggest clue yet that he will play again — somewhere – in 2023.
Ira Kaufman Dives Into Tuesday's Hall Of Fame Prep, Bucs-Cowboys Calls, And Plenty More On The Bucs Buffet.